OlivSpeed Tractor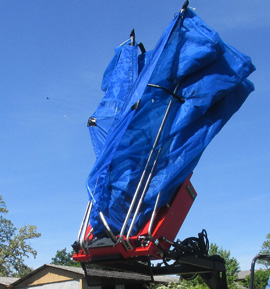 View Gallery
OlivSpeed Tractor is the 7th model of OlivSpeed, designed to satisfy the many requests of our customers
Available with umbrella in version Plus with net diameters from 5.5 to 7.5 metres and telescopic.
As with the 4x4 version, this model has the great advantage of being able to be positioned on the ground, thereby making collection even easier. OlivSpeed Tractor has been designed, as other models, for collection by beaters, but is also suitable for use in combination with shakers thanks to the development of specific nets. The lateral tilting of the umbrella allows even easier manoeuvring among olive trees.
OlivSpeed Tractor is light and thus movable with any tractor.
MOVEMENT:
attachment to tractor (attachment category 1–2)

TERRAIN TYPE:

according to the capability of the tractor
TREE TYPE:
with maximum trunk diameter of 100 cm

AVAILABLE NET DIAMETERS:

5,5 metres
6,5 metres
7,5 metres
8,5 metres

5,5 - 7,5 metres (telescopic)
6,5 - 7,5 metres (telescopic)
6,5 - 8,5 metres (telescopic)
FRUIT COLLECTION:
collection container with capacity of approximately 150 kg
WEIGHT:
300 kg.

CLOSED DIMENSIONS:

lenght: 3,5 m. / width: 1,5 m. / height: 1,5 m.